Multistage Coolant Pump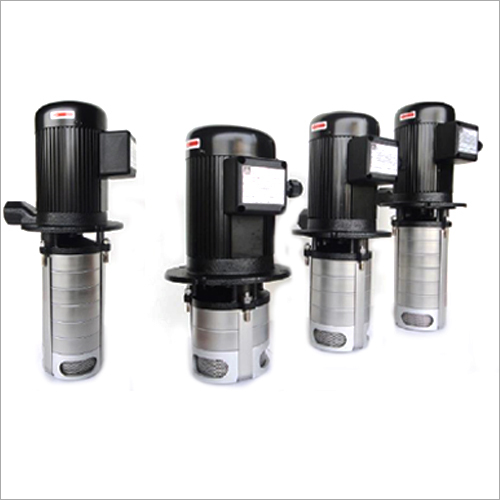 Multistage Coolant Pump
Price And Quantity
Product Specifications
Black & Silver

8 Kilograms (kg)
Jet Pump

Available in Mild Steel, Cast Iron, SS
Piston Pump

Electric Watt (w)
Product Description
We are instrumental in offering Multistage Coolant Pump which is widely designed for industrial application and machine tools. This pump is also known as a vertical centrifugal pump. Also, our designed pump is perfect for carrying various clean and non-aggressive matters like coolant, light oil, water, etc. It has impeller which is assembled on the extended motor shaft. Also, this Multistage Coolant Pump is manufactured using the strong material frame and high-quality components in the way that it can easily install in the machine and disassemble without any tool.
Product Description
The TC4T Series is vertical multistage centrifugal pump and developed for industrial application, especially for machine tools. It is suitable to carry liquid such as water, coolant, light oil and other clean, non-aggressive matters
Product Features
Immerse self-priming vertical multistage centrifugal pump
Co-axial pump and motor design
Impellers assemble on extended motor shaft
High quality stainless steel performed main working parts
Easy installation into machine and simple disassembly without any special tool
Customize are available

Applications
The TC Arrangement coolant pump is produced for splashing of cooling ointments and the course framework, particularly for machine devices. It is reasonable to driver fluids, for example, water, light oil, coolant and different clean, non-forceful issues fluid to cooling or oil applications. TC Arrangement can be utilized in all sort machine instruments to perform Turning, Processing, Penetrating, Cutting, Slitting, Granulating and so on operation (Lathing machine, boring machine, lapping machine, Processing machine, squeezing machine, stamping machine, drill, punch machine, cooling framework, oil cooling and water dissemination).

Product Specification
Brand: YU HSENG
Model: TC-1XXX-4T-Y-Z (XXX: Stem length; Y: No. of Stages; Z: No. of impellers
Power: 750 W (1 HP )
Phase & Voltage Options: 3 Phase & 220V;380V; 420V; 240V; 460V; 480V
Discharge Bore: PT 3/4 "
Dimension and weights

Model

A (mm)

B(mm)

C (mm)

D (mm)

Weight (kg)

TC- 1145 4T -2 -1

349

145

204

128

11.3

TC -1145 4T -2-2

349

145

204

128

11.5

TC- 1172 4T -3 -1

376

172

204

128

11.5

TC- 1172 4T -3 -2

376

172

204

128

11.7

TC- 1172 4T -3 -3

376

172

204

128

11.8

TC- 1199 4T -4 -2

403

199

204

128

11.9

TC- 1199 4T -4 -3

403

199

204

128

12

TC- 1226 - 4T -5 -2

430

226

204

128

12.1

TC- 1226 - 4T -5 -3

430

226

204

128

12.2

TC- 1253 - 4T -6 -2

457

253

204

128

12.2

TC- 1253 - 4T -6 -3

457

253

204

128

12.4
Model

TC Multistage Coolant Pump is 1 HP (750W). For details, please click model No. or below Product Icon


1 Impeller

No.

Immersion

1145-4T-2-1

145 mm

1172-4T-3-1

172 mm
2 Impellers

No.

Immersion

1145-4T-2-2

145 mm

1172-4T-3-2

172 mm

1199-4T-4-2

199mm

1226-4T-5-2

226mm

1253-4T-6-2

253 mm
3 Impellers

No.

Immersion

1172-4T-3-3

172 mm

1199-4T-4-3

199 mm

1226-4T-5-3

226 mm

1253-4T-6-3

253 mm
Trade Information
Cash Advance (CA), Cash in Advance (CID), Cheque

1000 Per Day
If order is confirmed we will reimburse the sample cost

All India